The Red Centre is well equiped for tourism, with accommodation and tours a primary focus of the region. From 'The Alice' you'll be able to experience the great outback and see the wonder of Ayers Rock up close.
Alice Springs and Ayers Rock have a few great hotels and resorts, perfect for a romantic getaway, weekend escape or family vacation. See a full list of over 40 Hotels in Alice Springs where you can check availability and compare pricing.
Hotels at Uluru
Yulara and Ayers Rock Resort were set up for the needs of tourist at Uluru, as there is no accommodation or facilities permitted within Uluru National Park itself. You can't actually stay at Ayers Rock or anywhere in the Uluru National Park, but most Uluru hotels are within the Ayers Rock Resort – most with views of the majestic rock off in the distance. There is everything there from camping to five-star lodgings.
Along with hotels at Uluru, the tourist town of Yulara also has everything a tourist would need amenity-wise. There is a supermarket and shops, a bank and a post office, along with bars and restaurants. The better hotels also have restaurants, although these can be quite expensive.
Ayers Rock Resort is located within the town of Yulara to the north of the famous landmark.
See a full list of Yulara Hotels where you can check availability and compare pricing.
Hotels In Kings Canyon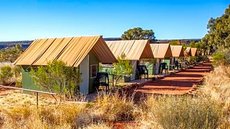 Kings Creek Station
From $107