Located about 10kms to the east of Airlie Beach in Queensland, Shute Harbour remains one of the busiest tourism sea-ports in Australia. It stands as an important gateway into the Whitsunday Islands, which includes some of the Great Barrier Reef's most secluded and pristine coral-fringed islands.
This bustling port is the perfect place to find charter boats and guided tours, which offer unrivaled sea trips into the surrounding reef. Located just off-shore from Shute Harbour are dozens of memorable diving and snorkeling spots, so full-day tours are recommended.
What is there to do at Shute Harbour?
There are many things to do at Shute Harbour, including chartering a boat to go diving or snorkeling in the Great Barrier Reef, fishing, and exploring the Conway National Park.
The beauty of the reef may be Shute Harbour's most alluring feature. Nevertheless, surrounding this site is the Conway National Park, which boasts a plethora of beautiful walking tracks that range from easy to somewhat challenging. Swim in the Cedar Creek Falls while you're in the national park.
Outdoor enthusiasts will adore this reserve, as it boasts an extensive tropical rainforest, despite its location halfway up the Queensland coast. Hop on a Segway Tour and explore Conway National Park the easy way.
Speed boats, catamarans and a range of other sea-vessels are available, so tourists have plenty of choices when wanting to explore the Whitsundays.
You can also take a scenic flight over the Whitsunday Coast and see the islands from above.
Shute Harbour and Airlie Beach are close to the Whitsunday Airport, where scenic flights are available. There is no better way to take in the awe-inspiring scenery of the Whitsunday Islands and Whitehaven Beach than a seaplane or helicopter. From the air, a kaleidoscope of blues, greens and golds put on a magical show for tourists.
Go snorkelling at the Whitsundays and enjoy the incredible underwater world that awaits you. The Great Barrier Reef is home to an abundance of marine life, and a day spent snorkelling will leave you amazed.
There are many tour operators in Shute Harbour that can take out to the the waters off the Whitsunday Islands for an amazing snorkelling experience, and they will provide you with all the gear you need.
Shute Harbour is the perfect place to base yourself when wanting to explore the Islands and Great Barrier Reef. With a range of accommodation choices, as well as plenty of tours and activities on offer, you'll never be bored.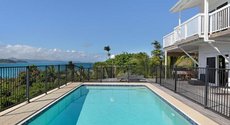 Bay House Whitsundays
From $822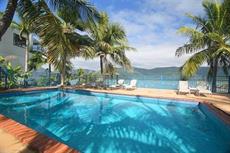 Coral Point Lodge
From $107

Baybliss Studio 2
From $216
Whether you're looking for an action-packed holiday or a relaxing getaway, Shute Harbour has something for everyone.
Can I swim at Shute Harbour?
Yes, you can swim at Shute Harbour. However, we recommend swimming at the nearby beaches and the Airlie Beach lagoon as the water is cleaner and there are more amenities.
There is a pontoon where locals and visitors can fish directly from the mainland in Shute Harbour. The Whitsunday Passage and beyond is a popular place for fishing tours.
Trout, Travelly, squid and Barramundi are all waiting within the Whitsunday Passage and beyond, making Shute Harbour a popular place for fishing tours. Avid fishermen travel here from all over the world to experience the challenging reef and deep-water fishing possibilities.
Are there crocodiles in Shute Harbour?
Crocodile sightings are few and far between and the waters around Shute Harbour are not known to be inhabited by crocodiles. However, as with any body of water in Queensland, it's a good idea to exercise caution and be aware of your surroundings.
You can see crocodiles near Shute Harbour, by visiting the Whitsunday Crocodile Safari. Here you can see crocodiles up close in their natural habitat. The tour (pictured below) is led by an experienced guide, and they'll provide you with safety tips so you can enjoy your experience.
How do I get to Hamilton Island from Shute Harbour?
The ferry to Hamilton Island (pictured below) from Shute Harbour departs several times per day and takes approximately 30 minutes. You can also fly to Hamilton Island Airport from Whitsunday Coast Airport, which is located near Shute Harbour.
There is paid public car park with security cameras at Shute Harbour on the lower level closer to the port, with slightly cheaper and long term parking available just up the hill at Lions Lookout car park.
What is the weather like in Shute Harbour?
The weather in Shute Harbour is warm and humid, with an average temperature of 28 degrees Celsius. The wet season is from November to April, and the dry season is from May to October.
The best time of year to visit Shute Harbour is in Australia's spring – from September to November when the weather is a little cooler.
If you are planning on going diving or snorkeling around the Whitsundays, you will need to bring your own equipment unless going on one of the many guided tours. Otherwise, the Queensland sun is strong, so just make sure to bring sunscreen, a hat, and plenty of water.
How do I get to Shute Harbour?
The closest airport to Shute Harbour is Whitsunday Coast Airport, which is located just a few minutes away by car. The easiest way to get to Shute Harbour from Sydney and Brisbane is to fly directly to the Whitsunday Coast Airport, and then take a short transfer bus to Shute Harbour and Airlie Beach.
Driving 1,100 kilometres to Shute Harbour from Brisbane takes approximately 13 hours to complete, and it is recommended that you break this journey up over a couple of days.
Do I need a car to get around Shute Harbour?
No, you do not need a car to get around Shute Harbour. There is a public bus that runs from the ferry terminal to the main tourist areas of Airlie Beach. You can also walk or ride a bike.
Airlie beach is just a short 10 minute drive from Shute Harbour.
What is the history of Shute Harbour?
Shute Harbour was named after Captain Henry Daniel Shute, who was the first European to settle in the area. He established a sheep farm on Hamilton Island in 1879 and built a wharf at Shute Harbour to ship wool back to the mainland. The wharf was later used to ship sugar cane from the nearby farms.
In World War II,Shute Harbour was used as a base for the United States Navy. During this time, a causeway was built to connect Hamilton Island to the mainland.
Shute Harbour was once the busiest port in Queensland and was an important gateway to the Great Barrier Reef. However, over time, the nearby airports have taken over as the primary means of transportation to the reef.
Now, there are a range of ferry services, resort connections, tours and experiences available at Shute Harbour Marine Terminal.