Cooktown has over two centuries of rich history. Cooktown was the site of the first European 'settlement' in Australia when Captain James Cook, having accidentally struck the Great Barrier Reef, off the coast north of Cape Tribulation, struggled up the coast and beached the Endeavour on the shores of the Endeavour River.
Cook and his crew were to stay on the edge of the Endeavour River from 17 June to 4 August, 1770, the longest time they were to spend at any location in Australia. Learn more about Cook's history in the Great Barrier Reef.
Discover the most beautiful, lush natural settings of Cooktown. Naturally there are the pristine beaches, but you can also find tropical lagoons, waterfalls, hidden gardens, and magical mountain views.
A must-see is a visit to Grassy Hill Lookout where you can experience 360 degree views of the countryside and beaches. There is also a walking track from the summit to the nearby beach at Cherry Tree Bay.
Cooktown, with it's anchor and cannon recovered from the reef that wrecked Captain Cook's "Endeavour", is a fascinating place. Located in far north Queensland Australia, the fishing is great and the scenery is unique. Cooktown also has an Airport.
A visit to the Museum and the historic cemetery should be on everyone's list, followed by an afternoon at the Fishermans Wharf to watch the barramundi being caught and the sun set. Explore Cooktown's history and culture, not only by walking through town, but also by visiting the monuments and museums of Cooktown.
James Cook Museum is located on the corner of Helen Street and Furneaux Street. Built as a convent in 1889, Cooktown's finest historical building houses well-preserved and presented relics from Cook's time in the town, including journal entries and the cannon and anchor from the Endeavour, retrieved from the sea floor in 1971, and displays on the area's Indigenous culture. Entry is $10 for adults, children – $3. Opens at 9:30, closes at 4pm.
Home to two excellent galleries: the Charlie Tanner Gallery, with pickled and preserved creepy-crawlie exhibits; and the Vera Scarth-Johnson Gallery, displaying botanical illustrations of the region's native plants.
The centre doubles as Cooktown's official visitor centre, with brochures outlining some of the area's excellent walking trails. Its Verandah Cafe serves dishes, such as gado gado with coconut damper. Nature's Powerhouse is at the entry to Cooktown's 62-hectare Botanic Gardens. Filled with native and exotic tropical plants, including rare orchids, the gardens are among Australia's oldest and most magnificent.
Trevethan Falls is a remote idylic freswater waterfall with a rock pool at its base located near Cooktown in far north Queensland.
Cooktown is a great place to stay if you want to go to Laura, which is only 1.5 hours away and known for its Aboriginal Art and Culture.
The famous Laura Rock Art Galleries are near the Peninsula Development Road. They have many paintings, engravings, and hand stencils made by Aboriginal people. A 30-minute walk lets you get to Split Rock Gallery on your own.
Cook Shire Visitor Information Centre and is open from 9.30 am – 4.00 pm seven days.
Telephone: (07) 4069 6004
Experience the best Scuba diving from Cooktown to Cape York, exploring some of the top dive spots. Dive among coral reefs, and discover the myriad fish species and abundance of marine life in the Great Barrier Reef.
Diving at Lizard & North Direction Islands
Explore the remote Lizard and North Direction Islands by diving, snorkelling, kayaking and hiking. From Chinaman's Ridge on Lizard Island, you can see beautiful views of Watsons Bay. North Direction Island's beautiful beaches and shallow coral gardens are great places to spend time alone.
Diving the Ribbon Reefs
Between Cooktown and Lizard Island, the reef is right on the edge of the Continental Shelf. This means that nutrient-rich water comes up from below, which is good for fish and corals. About 1,500 kinds of fish and 400 kinds of coral live here, from small critters to big fish that swim in the ocean.
Diving The Cod Hole
Divers go to the Cod Hole to spot big potato cod. These fish are very curious, and they don't mind getting close to divers. A great chance to take pictures of these interesting people or just hang out with them and enjoy their company.
57 miles north east off the coast from Cooktown is Lizard Island, an absolute tropical paradise, a haven of isolation, gratification and relaxation. In Cooktown itself, there are several hotels, motels and guesthouses available.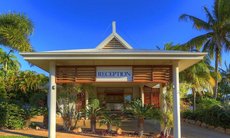 Sovereign Resort Hotel
From $181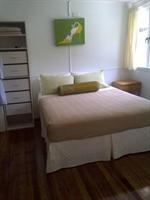 Hillcrest Guest House Cooktown
From $52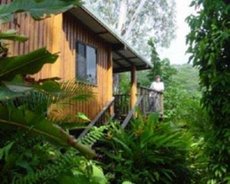 Milkwood Lodge Cooktown
From $114
More Accommodation
Gecko Guest House
22 Adelaide Street Cooktown QLD 4871
Telephone: 0438 611 820
Cooktown Hotel
Corner of Charlotte & Walker Sts Cooktown QLD 4871
Telephone: (07) 4069 5308
Cooktown Motor Inn
12 Charlotte St Cooktown QLD 4871
Telephone: (07) 4069 5357
Hillcrest Guesthouse
Hope St Cooktown QLD 4871
Telephone: (07) 4069 5305
Lizard Island Resort
Anchor Bay Lizard Island QLD 4871
Telephone: (07) 4060 3999
River of Gold Motel Resort
Corner of Hope & Walker Sts Cooktown QLD 4871
Telephone: (07) 4069 5222
Seaview Motel
Charlotte St Cooktown QLD 4871
Telephone: (07) 4069 5377
Cooktown Caravan Park
Cooktown Caravan Park provide a quiet, shady and welcoming place to stay. The park is situated in 5 acres of natural bushland at the foothills of Mt Cook. The sites are shady and a variety of native wildlife that call the park home. Cooktown Caravan Park has many powered sites, unpowered camping, unit accommodation as well as glamping tents.
Cooktown Caravan Park
14-16 Hope St Cooktown QLD 4871
Telephone: (07) 4069 5562
Cooktown Holiday Park
Cooktown Holiday Park is just a short stroll into town and is set among beautiful gardens and surroundings. Accommodation at Cooktown Holiday Park consists of comfortable fully self contained 1 and 2 bedroom cabins, motel style units, budget cabins, and roomy caravan and camping sites that can accommodate large motorhomes.
Cooktown Holiday Park
Charlotte St Cooktown QLD 4871
Telephone: (07) 4069 5417
Cooktown Orchid Travellers Park
Cooktown Orchid Travellers Park is an attractive friendly park in the middle of historic Cooktown. This holiday park offers a range of sites, both shady and sunny. There are grassy camp sites for camping as well as sites that can fit a large van or RV. All sites have access to power and water.
Cooktown Orchid Travellers Park
Corner Walker & Charlotte Streets (Entrance Walker Street), Cooktown, QLD 4895
Telephone: (07) 4069 6400
In the past, Cooktown could only be accessed by 4WD's but with the completion of the sealed Cooktown Developmental Road in January 2006, Cooktown is now more accessible to everyone.
Cairns to Cooktown
The drive from Cairns to Cooktown, Queensland is approximately 4 hours and is around 325 kms. The drive from Brisbane would be about 26 hours (although it would take longer as you need to stop over!). The development road is now bitumen all the way and is a beautiful drive through World Heritage rainforest. The road travels through dry, flat landscape and is fairly easy to drive.